Android Auto is getting a new app category. Google has announced that Internet of Things apps (or smart home apps) for cars are now supported by the Play Store. Developers can now build smart home apps, and after an enhanced car safety check by Google, they'll be available for car screens. This has been in early access for a while, but now the feature is hitting general availability.
As usual, the Android for Cars app program covers two different platforms: Android Auto and Android Automotive OS. The redundant branding means people always get these confused, but Android Auto is an app that runs on your phone. Just like Apple's CarPlay, you plug your phone into your car's dashboard (or it wirelessly connects), and the phone software takes over the car's in-dash display, using it like an external monitor. Instead of seeing the car's built-in infotainment system, you see a UI made by Google, along with any compatible Android Auto apps installed on your phone.
Android Automotive OS (AAOS), on the other hand, is the car's infotainment system. Google signs deals with car manufacturers to make the car run Android instead of a basic Linux or QNX or another car system, and that includes killer apps like Google Maps and Google Assistant. The car becomes a computer that runs Android, and you can never remove it. Today, you'll find Android Automotive OS on new cars from Polestar/Volvo, GM, and soon Honda and Ford. While AAOS and Android Auto are totally different platforms, they mostly support the same third-party apps. For Android Auto, you install the app from your phone's Play Store, while for AAOS you use your car's built-in Play Store to install the app directly to your car storage.
Designing apps for cars is a complicated and costly process since everything is subject to safety regulations from the US's National Highway Traffic Safety Administration (NHTSA) and similar regulatory bodies from around the world. The rules for car apps are extremely detailed—the NHTSA's "Human Factors Design Guidance For Driver-Vehicle Interfaces" is a 260-page document legislating everything from text and icon sizes to how long it takes to perform a certain task. Car app developers don't just have to contend with the NHTSA's guidelines but also the guidelines from the 45 other countries where their Android Auto apps will be available. Following all these rules is a nearly impossible task for a small developer and a huge barrier to entry.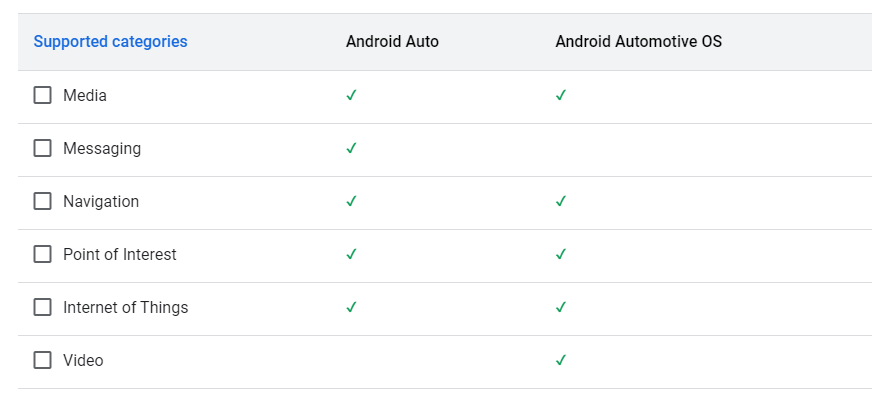 Google's solution for worldwide safety compliance is to not let developers do much in the way of "design" and restrict car app development to more limited "app templates." These are rigid designs Google cooks up and vets with the world's regulatory bodies, and then app developers can plug colors, icons, and data into their pre-baked designs. So on Android Auto and Android Automotive, all media apps use the same basic media player design, and a company like Spotify can paint that design green and black, pipe in its auto streams and album artwork, and choose what one or two optional buttons do. That's it. Pandora's media app is blue and plays different music, but otherwise looks exactly the same.
The rigid app template designs mean car apps are limited to only certain types of apps, and there are six kinds: "Media," "Messaging," "Navigation," "Point of Interest," "Video," and now, "Internet of Things." Google's new table confirms Messaging apps are inexplicably still not available on Android Automotive OS, and the new-ish "Video" app (there is a car YouTube app now) doesn't work on Android Auto. For Play Store app developers, you aren't allowed to make a car app unless it fits into one of these categories. That doesn't stop alternative methods of app distribution, though—the browser company Vivaldi has a deal to distribute its browser on Polestar's AAOS cars—car manufacturers are allowed to ship whatever software they want, and it will be up to them to vet the app with safety regulators. The Vivaldi and video apps don't work when the car is moving, by the way.