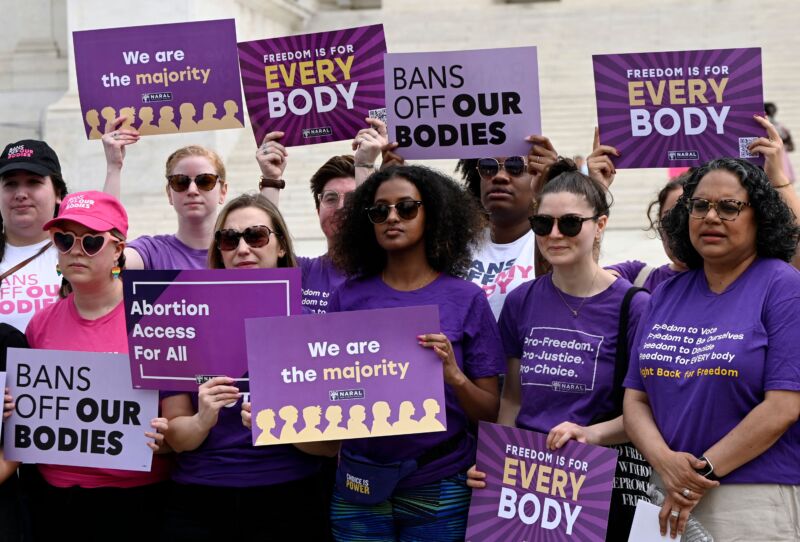 The Supreme Court on Friday temporarily blocked a lower court's ruling that would have curtailed access to the abortion medication mifepristone beginning on Saturday. The temporary block will preserve the status quo access to mifepristone for five days, or until midnight on Wednesday, giving the high court time to review emergency appeals and consider issuing a longer stay on the ruling.
The freeze is the latest turn in a fast-moving, high-stakes case over not only access to the safe and effective abortion medication but also the fate of the Food and Drug Administration's overall authority to regulate drugs in the country.
Last week, a federal judge in Texas, District Judge Matthew Kacsmaryk, issued a ruling revoking the FDA's nearly 23-year-old approval of mifepristone. Kacsmaryk, a conservative Donald Trump appointee, ruled that the FDA erred in approving the drug and that there was insufficient data on its safety, despite dozens of studies, decades of real-world data on millions of pregnancies, and extensive reviews from the regulatory agency.
On Wednesday, a three-judge panel of the Court of Appeals for the 5th Circuit in New Orleans blocked most—but not all—of Kacsmaryk's ruling, pending appeal. The panel temporarily struck down Kacsmaryk's suspension of the FDA's approval of mifepristone, which occurred in 2000. But it held in place Kacsmaryk's ruling that would roll back additional access that the FDA granted in 2016.
Under the rollback, mifepristone would have gone from being available up to 10 weeks into a pregnancy to being available only up to seven weeks and would have required in-person doctor's visits (not telemedicine), and would no longer have allowed the drug to be dispensed through the mail.
A flurry of emergency appeals from the Department of Justice, the drug's maker, Danco Laboratories, and amicus briefs have been filed since the ruling Wednesday. Collectively, they argue that Kacsmaryk's initial ruling and the appeals court ruling have a slew of errors and flaws, from cherry-picking mifepristone's data and relying on anecdotes to allowing a judge with no scientific training to second guess the FDA and put forth his own inexplicably rigid framework for drug approvals. They also argue that if the ruling stands, virtually no FDA-approved medication would be immune to judicial activism and second-guessing, throwing the pharmaceutical industry into turmoil.